Fairer prices, zero hassle.
We were invited by Doji, a marketplace that connects buyers and sellers of mobile phones, to work on their new animated campaign.

Based on their script, we had the challenge to create storyboards, character designs, backgrounds and animations to explain in a stylish and fun way the process of buying a new phone in their platform.

Here you can follow every step of the production of this animated film.

Our first step in production was finding the right art direction, and we started sketching some characters and
 with young, angular and fresh look. Here are some of our final steps of our quest to find the next Doji customers to be the face of the company!

a father of a little girl, in his mid 30s, and despite his very serious life, he is a cool and funny guy (a bit cheeky as well). Harry is not the type of guy who likes to negotiate, but he is always looking for good prices and the best deals.

We wanted to avoid the "vanilla white", everyday regular british guy look, giving Harry subtle but unique character and personality traits.
a tech savvy, and the type of person that likes to be at top of the latest trends and in fashion.
Despite being very focused and organised, she has an extrovert and fun personality, and could win a multitasking award for the amount of work she gets done with her old phone. Imagine what she could get done with a new one?
Considering her personality traits and the time the campaign was going to be released, we chose to dress her with a vibrant yellow coat, giving Naomi an expansive and classy silhouette.
Next stop, the UK! We have created backgrounds for different campaigns based on big and small cities and locations in Doji's headquarters. We tried to emphasize angular and irrregular shapes to work well with our character lineup, as well as going towards more vibrant colours to make every scene to pop in the screen.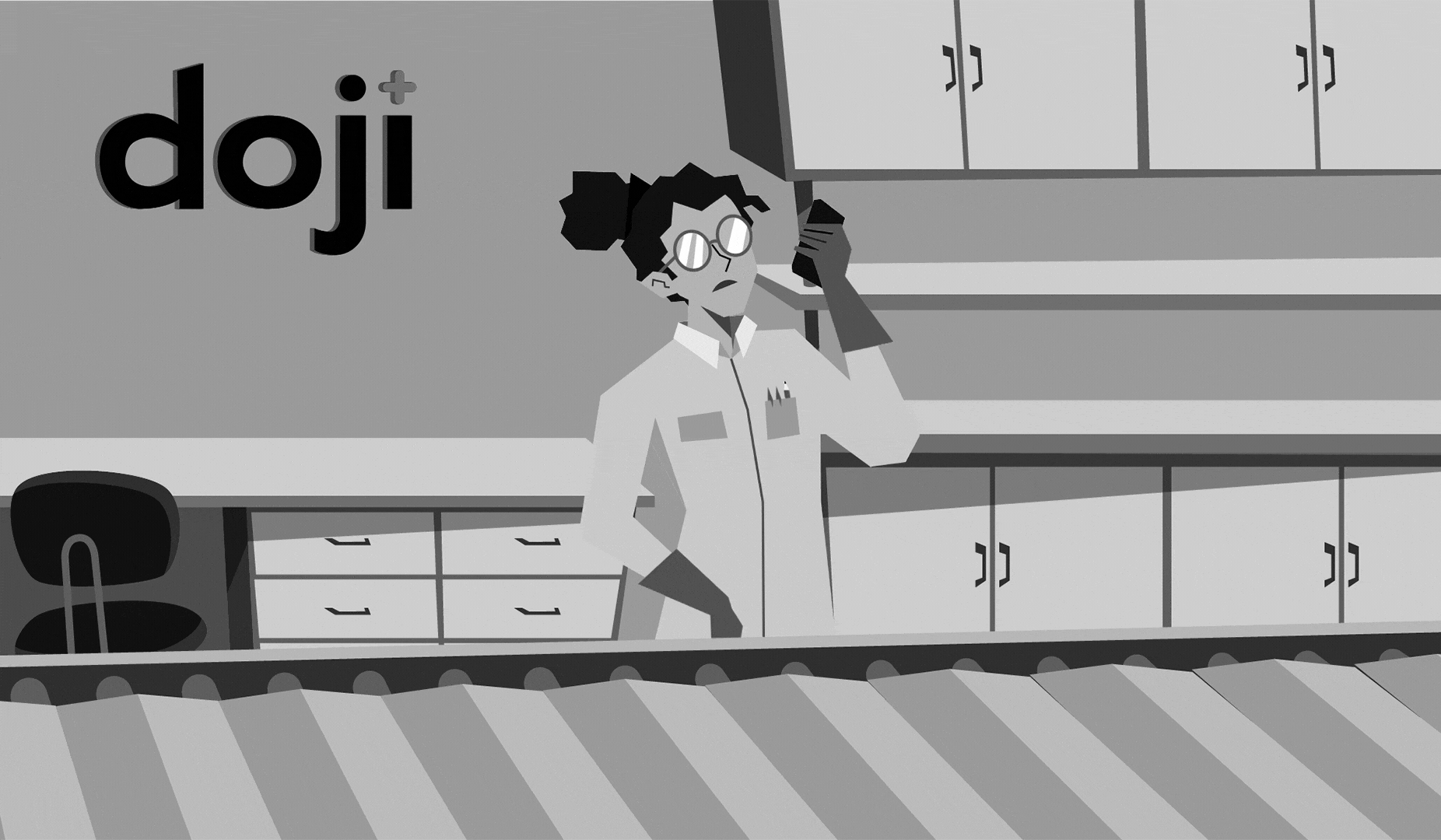 We worked together with the client to make their product process clear. First we created a rough thumbnail sketches, and then we organised it into a more refined animatic to give us and the client a clear idea of the flow of the animation, and to guide our animators and editors throughout the production.
Time to make these bodies move! The character animations were done frame by frame in Adobe Animate following a structure of pencil test, tie down and clean up. We then moved to Adobe After Effects for some final touches in compositing to blend the characters with their backgrounds.
Client: Doji  |  Year: 2020  |  Service:  Art Direction, Character Design, Illustration System, Motion Design  |  Script: Doji  |  Creative Direction: Gareth Braile, Satyen Fakey, Fernando Costa  |  Art & Animation Direction: Bebeto Cahali  |  Storyboards: Bebeto Cahali  |  Character Design: Bebeto Cahali, Pulebitia Design  |  Background Design: Mateus Klein, Bebeto Cahali, Luis Naza  |  Animation: Mateus Klein, Bebeto Cahali, Luis Naza  |  Compositing: Bebeto Cahali  |  Sounds & Mixing: Leonardo Lima